If your content is still on the "more" side, here are a few things you can do to "less" it up.
Think things through –
Ironically, writing less takes more time, for a few reasons. You could be trying to relate too many disparate ideas. Or, if you have narrowed the focus to one idea, you might not be clear on your point of view. If you're stuck, try answering the following questions (2-3 sentences each, max).
What is it?
Why should my reader care?
What do I want them to do?
If your initial answers aren't clear, that's OK. Think them through until they are, then use those answers to guide the writing. Once the core concepts are down, then go back and work on paring the piece down to its essence.
Pick a lane –
When reading your blog post, audiences expect to encounter a single main idea, your point of view on that idea, some reasons why they should care, and some ideas about what you think they should do about it.
A larger piece of content, such as a white paper or presentation, typically offers audiences a series of ideas but those ideas should reside within the "lane" of an overarching theme.
As the venue gets smaller (think Twitter, Facebook, LinkedIn) a laser-focused, less is more mindset is even more critical because often all you have room for is a single statement that reflects your point of view.
Become a word killer —
Great writers are expert word killers. Local writer and friend, Patrick McLean says it best with this great piece on how to kill words. Take a couple of minutes and watch his presentation. Though killing words is a great practice when writing in general, it's particularly helpful when writing email subject lines, blog post titles, tweets, and LinkedIn posts (all of which should be written as headlines, by the way). Remember, these "headlines" are the gatekeepers of your content. If they're not interesting enough, no one will ever get to the meat on the bone. Challenge yourself to kill extra words wherever you find them from here on out.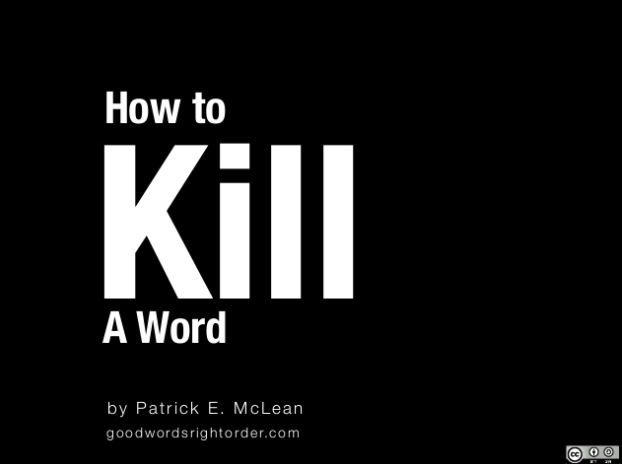 View Patrick McLean's "How To Kill A Word" Here
---
In all cases, your goal should be to deliver the information to the reader as quickly and efficiently as possible. Make an impression on them and move on. You'll work a lot harder in the short term, but your audience will love you for it, forever.